DURBAN/BREMEN 2020: South African artist, Khulekani Cele from Durban, visited Bremen as scholarship-holder within the Durban/Bremen city-partnership and arrived just when the Corona-Shutdown began in Germany, in South Africa and elsewhere.
Khulekani recalls:
"Everything turned unexpectedly due to the virus, I could not move around Germany freely as I had hoped to get access to and be inspired by the European art-scene."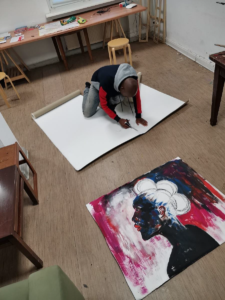 Impressions, emotions and moments captured and processed by Khulekani during the tumultuous days in March/April 2020 remain unforgettable.
"My work ended up being a catharsis to me in the space I found myself in as I was affected by the messages I received from home …
Some of the fascinating art that Khulekani created in the midst of the Corona-Shutdown at the Bremen Art Residence expresses his amazement and his gratitude for the experiences gathered under such challenging and threatening circumstances.
Khulekani sums up and reflects:
"To journey together as human-beings at the same time and seeing different political groups fighting one invisible enemy and putting aside political differences and the issue of not perceiving things from one perspective, is very inspiring."
Siyabonga, Ndosi! Thanx, Khulekani!   –  Phambili! Forward!
Ben